Home>
Sofitel Florianópolis
Book
The Sofitel Florianópolis has a piano bar, Bar Au Champagne, Bubble Bar, the first in the south of the country, next to the traditional Sofitel Bibliothèque bar. A space for you to enjoy the best champagne or a delicious cocktail.
See bar photos
Expand all
Close all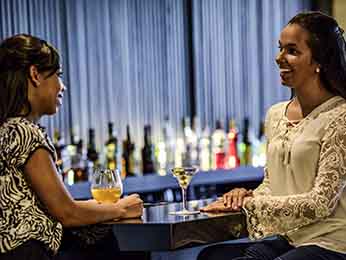 BUBBLE BAR
LOBBY BAR
The Sofitel Florianópolis hotel has a piano bar, the Bubble Bar, located. A space in which you can enjoy delicious drinks.
Opening hours: 08:00-24:00
Opening days

| | Mon | Tue | Wed | Thu | Fri | Sat | Sun |
| --- | --- | --- | --- | --- | --- | --- | --- |
| Midday | | | | | | | |
| Evening | | | | | | | |
Hot dishes
Cold snacks
Weekday hours : 24 hours
Weekend hours : 24 hours
(*) Lowest prices found over the following seven days.
These prices may be based on different room types. Depending on the country, these prices may not include taxes, may include VAT only or may include all taxes (VAT and city tax). When prices do not include all taxes, the relevant taxes (VAT and/or city tax) will be stated in the following stages of the reservation process. The price is only guaranteed at the time of reservation.
(1) Paying services
(2) Nearby

Hotel classifications (1 to 5 stars for France) correspond to criteria laid down by local regulations.

Photos

Our concierge s suggestion
It is with enthusiasm and inventiveness that the Sofitel concierges enjoy finding the seats for a concert that has been sold out for weeks, the table in the restaurant that everybody covets or a magnifique gift to celebrate a special occasion.
Concierge - Concierge at Sofitel Florianópolis
Nearby hotels
Av. Rubens de Arruda Ramos
number 2034
Santa Catarina
88015701 - Florianópolis
BRAZIL