Home>
Sofitel Malabo President Palace
Book
Bar 1901 pays tribute to the buildings heritage, with a cozy colonial atmosphere, ideal for afternoon tea or an informal business meeting. Tapas and tasty snacks complement champagnes, liqueurs and cocktails crafted from fresh local pineapple and papaya.
See bar photos
Expand all
Close all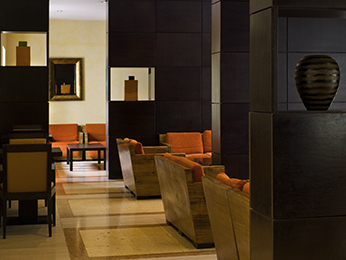 BAR 1901
BAR
Cozy up among the hotel bar's African artworks for a pre-dinner flute of champagne, or relax with colleagues on the terrace. Order a platter of chicken skewers or crispy squid to go with your Flamingo cocktail: white rum, lemon, pineapple and grenadine.
Opening hours: 9-24h
Opening days

| | Mon | Tue | Wed | Thu | Fri | Sat | Sun |
| --- | --- | --- | --- | --- | --- | --- | --- |
| Midday | | | | | | | |
| Evening | | | | | | | |
Hot dishes
Cold snacks
Weekday hours : 24 hours
Weekend hours : 24 hours
(*) Lowest prices found over the following seven days.
These prices may be based on different room types. Depending on the country, these prices may not include taxes, may include VAT only or may include all taxes (VAT and city tax). When prices do not include all taxes, the relevant taxes (VAT and/or city tax) will be stated in the following stages of the reservation process. The price is only guaranteed at the time of reservation.
(1) Paying services
(2) Nearby

Hotel classifications (1 to 5 stars for France) correspond to criteria laid down by local regulations.

Photos

Our concierge s suggestion
Take a break from meetings and explore the wild waterfall of the Moka Valley with a private guide. A peaceful hike through the jungle leads to a natural opening and Magnifique views of the lush Moka waterfall. We will happily arrange the tour.
Baptiste do PAÇO'(+240) 222 239 357 - Concierge at Sofitel Malabo President Palace
Nearby hotels
Plaza de la Independencia
Centro Historico
Zona Presidencial
P.O.BOX383 - MALABO
EQUATORIAL GUINEA