Home>
Sofitel Brussels Le Louise
Book
In Crystal Lounge a gourmet restaurant in Brussels with an adjoining bar cigar lounge and terrace the art de la table is as exquisite as the menu. Recline on leather banquettes and toast your delicious meal with handmade amethyst crystal glasses.
See restaurant photos
Expand all
Close all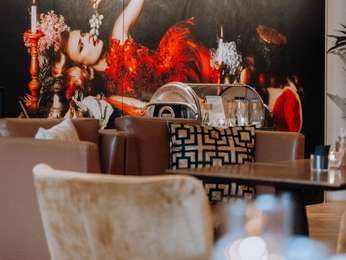 CRYSTAL LOUNGE
International
Mr. Adwin Fontein, Head Chef
Learn more and book
Award-winning chef Adwin Fontein inspires gourmet creations - from foie gras to monkfish - in this sleek restaurant in Brussels. Soak up the Zen atmosphere of a leafy terrace with a relaxed Sunday brunch or cheeseburger paired with a Belgian beer.
Terrace
Air conditioning
Pets accepted
Non smoking area
Opening hours : 11:30-14:30 / 19:00-22:30
Opening days

| | Mon | Tue | Wed | Thu | Fri | Sat | Sun |
| --- | --- | --- | --- | --- | --- | --- | --- |
| Lunch | | | | | | | |
| Dinner | | | | | | | |
Hot dishes
Cold snacks
Weekday hours : 24h/24h
Weekend hours : 24h/24h
(*) Lowest prices found over the following seven days.
These prices may be based on different room types. Depending on the country, these prices may not include taxes, may include VAT only or may include all taxes (VAT and city tax). When prices do not include all taxes, the relevant taxes (VAT and/or city tax) will be stated in the following stages of the reservation process. The price is only guaranteed at the time of reservation.
(1) Paying services
(2) Nearby

Hotel classifications (1 to 5 stars for France) correspond to criteria laid down by local regulations.

Photos

Our concierge s suggestion
Discover Sofitel Brussels Le Louise tucked in the upscale Avenue Louise shopping district, and sip tea on the vast, peaceful terrace. Designed by renowned architect Antoine Pinto, the hotel blends Belgian surrealism with renowned French elegance.
Mariano VAN CLEVE (+32) 2 549 61 23 - Concierge at Sofitel Brussels Le Louise
Nearby hotels
40 Avenue de la Toison d Or
1050 - BRUSSELS
BELGIUM