Home>
Sofitel Los Angeles at Beverly Hills
Book
Riviera 31 is a sophisticated bar lounge welcoming L.A.'s most discerning and cosmopolitan clientele for daily nightlife entertainment and unique Mixology cocktail creations,among artworks from the legendary French Riviera photograph Edward Quinn.
See bar photos
Expand all
Close all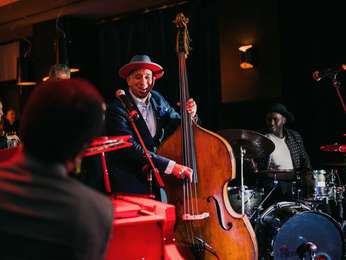 RIVIERA 31
BAR
Our bar, lounge and outdoor patio, fuses cutting-edge interiors and signature cocktails creating an ambiance of style. DJ Rotation Tuesday-Saturday, 9pm-2am
Opening hours: 17:00-2:00
Opening days

| | Mon | Tue | Wed | Thu | Fri | Sat | Sun |
| --- | --- | --- | --- | --- | --- | --- | --- |
| Midday | | | | | | | |
| Evening | | | | | | | |
Hot dishes
Cold snacks
Weekday hours : 24hours
Weekend hours : 24hours
(*) Lowest prices found over the following seven days.
These prices may be based on different room types. Depending on the country, these prices may not include taxes, may include VAT only or may include all taxes (VAT and city tax). When prices do not include all taxes, the relevant taxes (VAT and/or city tax) will be stated in the following stages of the reservation process. The price is only guaranteed at the time of reservation.
(1) Paying services
(2) Nearby

Hotel classifications (1 to 5 stars for France) correspond to criteria laid down by local regulations.

Photos
Our concierge s suggestion
For an exclusive experience to the most luxurious shopping excursion and fine dining, we recommend the star studded Rodeo Drive. Please stop by the Concierge Desk for information, directions and reservations. We would be delighted to assist you!
(310) 278-5444 - Concierge at Sofitel Los Angeles at Beverly Hills
8555 Beverly Blvd.
90048 - LOS ANGELES
UNITED STATES